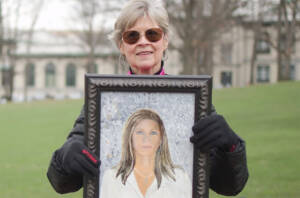 A mother's love endures through all. Edie Yeager's daughter, Jenni, died from stage 4 breast cancer, and Edie continues to fight for her daughter's life. This Mother's Day, Edie, alongside 20 residents and staff from Masonic Village, took part in the More Than Pink Walk to raise money for the Susan G. Komen organization. As the top fundraiser in Pennsylvania this year, Edie (shown with a portrait she painted of Jenni) has been involved in supporting the cause since her daughter's diagnosis 16 years ago, but this is the first time she is raising money and taking part in a walk.
As her daughter once shared during a speaking engagement, "I know, without question, the generosity of others before me has extended and saved my life. I hope to do the same for those who come after me. Someday cancer will take my body, but I absolutely refuse to give it my life. That's for me."
"I am very grateful for the support of Masonic Villages," Edie said. "I am truly humbled by this tremendous outpouring of support in my first personal venture with this worthy cause."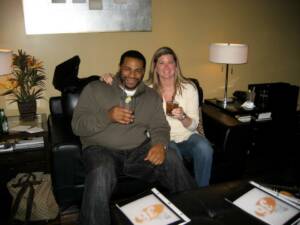 Jenni mentored others with metastatic breast cancer and spoke frequently about her experience. She produced a bucket list with about 40 items, and completed all but one before her passing in 2012. They included having a beer with former Steeler Jerome Bettis (shown together in second photo), skydiving, learning to fly a helicopter, touring Venice, glassblowing and visiting Yellowstone National Park and Mt. Rushmore. Her legacy lives on through her mother, Edie, and all those walking and fighting in the name of a lost loved one or themselves.