Long Term Care You Can Trust
Here for You and Your Loved Ones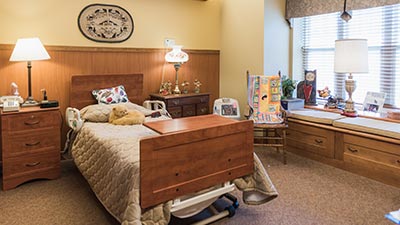 Find the right amount of support with personal, nursing and memory care and short-term rehabilitation at Masonic Village at Sewickley. Around-the-clock care is provided in comfortable, attractive accommodations. Attentive staff help with medication administration, nutritious meals and housekeeping services, while residents enjoy entertainment, spiritual services and recreational programming.
Each recently renovated personal care accommodation in the Star Points Building can be personalized and offers a kitchenette, private bathroom and numerous amenities.
Located within warm, caring neighborhoods, nursing care accommodations, as shown above, include 88 private suites and 20 private suites with shared bathrooms, which can be decorated to your liking. All feature easily accessible European-style showers.
Loved ones with Alzheimer's disease and other related dementias receive individualized memory care in specifically-designed neighborhood residences tailored to maintain the dignity, respect and safety of each resident within a secure environment.
The Transitional Care Unit for short-term rehabilitation within the Sturgeon Health Care Center helps with full recovery from an injury, illness or orthopedic surgery and returns patients home quickly.